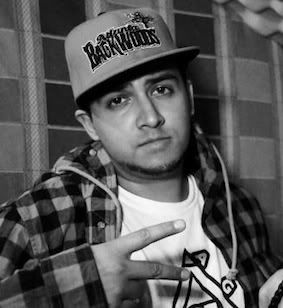 I was recently blessed with some time to chat with OG Hindu Kush's Loe Pesci. The Montreal rapper recently dropped his new album GOOD X 2 which was featured here. OG Hindu Kush's debut album In 3D was released to a huge amount of critical acclaim and topped a lot of "best of" lists for 2011, including mine.
Watch the new video to the first single off GOOD X 2 "DMT With Joe Rogan" here:
Me
:
Who were your favorite rappers growing up?
Loe Pesci
: I came up and started listening to rap , rapping in the same period of time , when
The Chronic
and
Doggystyle
and all that was going on. I was brought up on that Eazy-E and I learned about east coast artists and started diggin' that more. Someone I always say changed the way I saw rap was Big L.
Me
:
Was Big L a big influence on your decision to become a battle rapper?
Loe Pesci
: No, I started rapping when I was 12. I don't think Big L was really known back then.
Me
:
Who were the most notable local Canadian rappers when you were coming up?
Loe Pesci
: Shades of Culture, Rascalz, Ghetto Concept, Saukrates, and Choclair.
Me
:
I'm familiar of Saukrates, he's pretty dope. How do you feel about the current Canadian hip-hop scene?
Loe Pesci
: There's a lot more going on now.
Me
:
Who do you feel are the elite Canadian hip-hop artists of today?
Loe Pesci
: Out of Toronto you got so many great artists...too many to name to be honest. Montreal has Magnum, Iblast, Ceasrock, and The Narcicyst just to name a few.
Me
:
Montreal and Toronto are the 2 major hotbeds for hip-hop in Canada?
Loe Pesci
: Don't get me wrong, you got a whole scene in Halifax. You got people making music everywhere in Canada. It's just about getting it to the right places...making good music isn't enough. I,f you want any type of success, you're gona have to either sign with a lable or do everything yourself and surround yourself with a good team.
Me
:
And that's what you've done with OG Hindu Kush and the rest of the AGL family.
Loe Pesci
: Yeah man.
Me
:
Were you and the rest of OG Hindu Kus surprised by the huge amount of critical acclaim that was recieved by In 3D?
Loe Pesci
: Well not really, cause we know we make good music. If anything, I'm disappointed that we didn't reach further but being independent and being your own manager/Publicist/etc.. means you learn along the way and hopefully reach a bigger demographic every time.
Me
:
Believe me, when people ask for a 2011 album, In 3D is always among the first albums I rec. What's the timeline for new OG Hindu Kush material?
Loe Pesci
: We are looking to drop the
Small Coffins EP
in a few months. However, Os is busy with work and his own life game. I am busy promoting my solo album
GOOD X 2
and working on getting a few videos out for that project which I just released.
Me
:
Being a solo album, was GOOD X 2 made with a different approach compared to In 3D? How do you feel about the project on a personal level?
Loe Pesci
: This album was made in a short period of time. "Headbangers" and "My Sampler" were made in '09. The rest was made in the past 3 or 4 months, so its really just what I was going through at that point. A lot of shit was going on that made me just blurt out my thoughts on these songs.
Unfortunately, we had to cut the interview a little short because Loe had some business to take care of. Still, big thanks to the dude for lending us a little bit of his time and we hope for the best for him and the rest of the AGL family.
Download Loe Pesci's new album
GOOD X 2
here
or listen to it here:
OG Hindu Kush's Bandcamp: http://oghindukush.bandcamp.com/
Follow Loe Pesci on Twitter: @LoePesci
Join the AGL movement:http://aglisagoodlook.com/